Ever since I saw Sky Cowan's video of Bulletproof Labs, I've been thinking how cool it would be to work out in a facility like that. While searching for places to get cryotherapy treatments in Greater Helsinki area, I stumbled upon Bodypioneer's site and it quickly became apparent that this might be the closest thing to Bulletproof Labs I could get around here.
Bodypioneer is an importer of workout and recovery equipment first, and an "upgraded gym" second. Essentially, they have a showroom in which you can book workout sessions for the different equipment that they're importing. And they're not just any old crossfit gadgets, but machines utilizing different forms of photobiomodulation, vacuum pressure, infrared heating, and so on. After few emails back and forth, I decided to go for an Infrashape bike session first.
Infrashape Horizontal is basically a stationary recumbent bicycle with a twist. Although recumbent bikes are often recommended for those who're just starting their fitness journey, the laid-back position is also great for those recovering from injuries, suffering from lower back pain or who just generally need to ease off the tension from their back or core. Before stepping into the machine (yes, in not on) you'll have to put on a "neoprene skirt". The edges of the skirt will then be fitted around the hole you're lying in, effectively sealing your legs inside a vacuum pressurized pod. As this was my first experience with vacuum pressure training, I'm not really qualified to assess the effectiveness of it yet, but here's a list of the alleged benefits.
From the machine's touch screen you can select the type of workout you want and also if you'd like to train in a vacuum, in infrared, or both. Of course, I had to go with both, but for the intensity I selected only a medium level as I was still on a recovery mode after spending excess of 1,000 calories on a gravel bike the day before.
After that, I was cruising along the beautiful nature of Costa Rica. Or that's what played on the screen, anyway. Besides the standard biking data, the HUD displayed a bunch of other more interesting numbers: infrared light's temperature (set to max, of course), vacuum pressure, and an on/off switch for "collagen". Intrigued by that collagen option, I chatted with Tiiu Itkonen, COO of Bodypioneer. As I assumed, the option did reference to the photobiomodulation aspects of the device. She did tell me the wavelength of the red light, 620 nm, but in the end it was a bit unclear if there was NIR lights inside the pod, too.
The 50°C far-infrared light on the other hand really did its job, and I had a pretty good sweat on already at the ten-minute mark! All in all, I ended up burning only ~400 kcal during the whole 30-minute session (measured by Polar OH1, the calorie counter on the screen was way higher), but because of the heat by infrared lights, it felt more intense for sure. As anyone who's been in an infrared "sauna" knows, there's of course more health benefits to infrared lights than increased sweating.
The only downside of the machine that I can think of was that especially in the beginning, I did experience a bit of pain in my knees as the "one-size-fits-all" pedal setup is suboptimal for tall people. For shorter-than-average user, it should be fine as long as your knees don't lock out, but for us taller folk, the increased angle can be damaging in the long run.
After I had a moment to catch my breath after the workout, I was offered a chance to try out one of their other machines. This one was a beast-of-a-roller: motorized, equipped with high quality wooden rolling blocks, and again with an integrated infrared light. According to Bodypioneer's site, it "provides benefits from lymphatic drainage to fascia treatment". I ended doing a 10-minute session for my legs.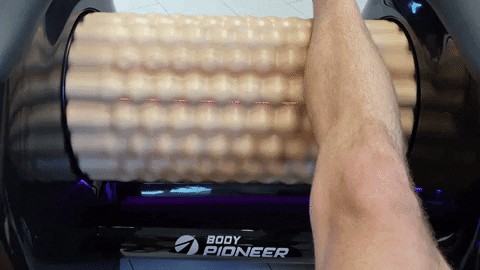 In total, there's currently three different types of devices available in the Bodypioneer showroom for exercise, plus these rollers for recovery. They've been open only since April this year, and I heard that towards the fall and end of the year they'll add more devices from their catalog to the showroom as well. The first visit is free, so I definitely recommend seizing that opportunity! I'm planning to purchase a 12-time card soon and throw a curveball to my workout regime by experimenting with all of the equipment they have in the showroom. In other words, more articles coming to the blog 🙂